I hope everyone had a wonderful Valentine's Day.  I had a fabulous one.  First I dressed my family:
We all dressed in red to support our heart families.  Sissy's shirt says 'I Love You Cherry Much'. That about sums this picture up.
We went to swim school and had some yummy Italian. The kids opened up some presents my mother in law sent them via George.
Sissy got one of those awesome bibs like Rett has. It even has a little loop to hold the spoon for on the go feeding. Awesome!
Rett matched the bow so that was cool. Trains! Awesome!
So Mara's newest release is too adorable!  She calls it Froot and Veggies and its full of fun elements and bright colors.   Here is a preview:
Here are the layouts I created using this fun kit!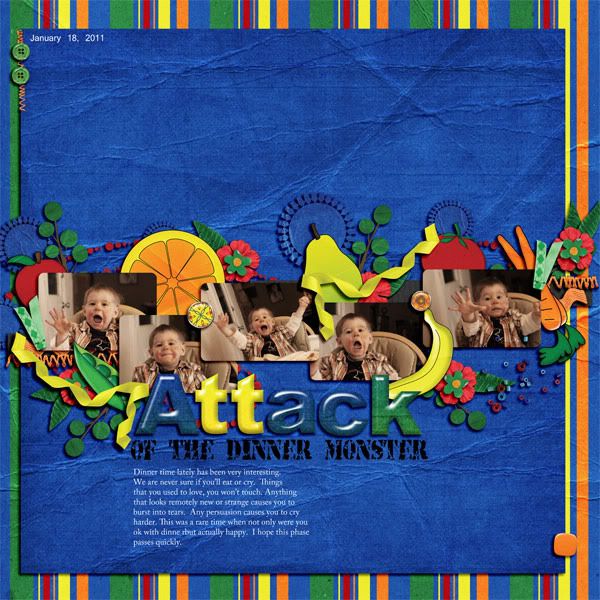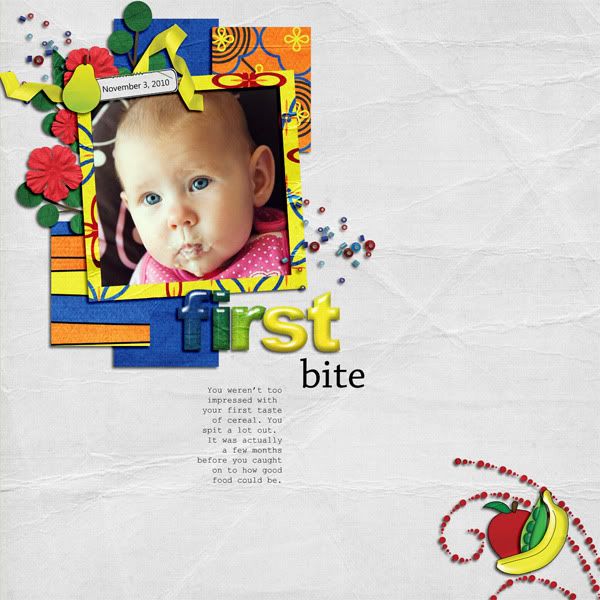 And I also created this fun little book:
You can download it here!
Here is what you'll need to put your book together:
printed out pages
scissors
velcro
stapler
Step 1:
Print on cardstock, laminate if desired and cut pieces.
Step 2:
Place Velcro on the back of the fruits and veggies and on the places within the book where you apply them.
Step 3:
Staple your book together. I also recommend getting a snack bag and stapling that on the back of the book to hold the pieces.
So then your child reads (or has you read) the different clues in the book and attaches the correct photo to the clue using the velcro. 
And you are done! Pay no attention to my water damage. Hasn't been dealt with yet. 
So there you go!  These little books are perfect for car rides and waiting rooms!  Enjoy!